New Home page 14 August 2020 Test
Welcome to K53 Bike Lessons & THINK Motorcycle Academy & THINK Motorcycle Tours
It is well known that proper Motorcycle and Scooter Rider Training that develops and promotes correct Riding and Road Traffic Safety Skills dramatically reduces the risks of accidents and makes your Motorcycle Riding Experience so much safer. Consider that any time, effort and money spent doing Motorcycle Rider Training, to be an invaluable "Investment" in your Riding future.
Our Mission at K53 Bike Lessons, THINK Motorcycle Academy and THINK Motorcycle Tours is to strive to provide only the best properly prepared and designed Rider Courses and Tours, offering the finest Riding Skills Development Modules with the latest, up to date content. in a safe fun environment. The outcome of this Rider Training would be an increase of well trained confident Motorcyclists and Scooter Riders on our roads, equipped with the correct defensive riding skills to be low risk Road Users and to maximise the excitement and enjoyment of their journey on two wheels.
Our Motorcycle Riding Safety Instructors, headed up by Andy Rice, are qualified RTA registered, knowledgeable and experienced Motorcycle Riders with many thousands of kilometres in the saddle of various Motorcycles, with more than 10 years of successful Motorcycle Rider Training.
We understand that the Road Traffic environment that we, as Motorcyclists and other Road Users must share is also constantly evolving and in order to adapt to these changes and trends in Rider and Driver Behaviour the content of our Rider Courses must also stay relevant.
In order for us to provide a targeted approach to the specific needs of each individual Motorcycle & Scooter Rider and to meet these challenges, we have established 3 x separate, but co-ordinated and structured Motorcycle Rider Training Academies, each offering their own specialist Modules, Skills Development Programs and Motorcycle "Lifestyle" Tours and Out Rides.
One is K53 Bike Lessons and the others, THINK Motorcycle Academy, THINK motorcycle Tours.
K53 Bike Lessons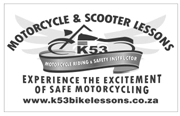 K53 Bike Lessons will advise and guide a Rider through the entire K53 Motorcycle or Scooter Test process from start to finish. These Lessons are "K53 Motorcycle or Scooter Test Specific"as the content of the Course is designed to prepare a Rider to have an accurate understanding of all that is required for the Test. This includes going through everything that the Rider needs to know about the K53 Test, including those little "idiosyncrasies" relevant to each Testing Centre, the various Riding Skill Exercises that form part of the K53 Test in a simulated Test Yard environment to get the Rider properly equipped with the correct info, to stand the very best chance of passing the K53 Bike Test. To get maximum benefit out of these K53 Test Prep Lessons, a Rider must already be competent with current skills and ability to ride a Motorcycle or Scooter that they intend using to pass their K53 Test.
THINK Motorcycle Academy

THINK Motorcycle Academy is all about Motorcycle or Scooter Riding Skills Training, offering a variety of Riding Courses from Beginner Rider, Convert Auto To Gear through to Advanced Rider, including all the other various Road Riding Traffic Skills Courses. Our Rider Training Courses are innovative and are constantly being up-graded and adapted to the changing Traffic Riding Trends enabling us to continue to offer an even higher standard of motorcycle training to the Greater Cape Town Motorcycle Community. All our Courses concentrate on proper Motorcycle or Scooter Traffic Road Riding Skills which revolve around the concept of Defensive Rider Training.
THINK Motorcycle Tours & Out Rides

THINK Motorcycle Tours is all about offering classic and unique guided Motorcycle "lifestyle" Tours and Out Rides in and around the Greater Cape Town Region, with the emphasis on promoting proper Rider Training, in an environment made up of spectacular, scenic routes and roads, visiting fascinating attractions and destinations en route, ideally suited to bring the very best out of you and your motorcycle.
All Tours and Out Rides are lead by Andy Rice, a local professional, experienced and registered Motorcycle Safety Instructor and Tour Guide, The Routes and Itineraries are keenly designed for those Motorcyclists and Scooter Riders who wish to enjoy and explore the scenic beauty of the Greater Cape Peninsula along some of the most spectacular, coastal roads and mountain passes, whilst being mentored and trained to become safe, skilled, competent and confident Riders.
TO BOOK YOUR LESSONS or TOURS
Contact: Andy Rice Cell: 082-334 9722
info@k53bikelessons.co.za or www.k53bikelessons.co.za
GET LEGAL AND EXPERIENCE THE EXCITEMENT OF SAFE MOTORCYCLING
K53 Bike Lessons WEB - HOME PAGE - (02) 09-2020
Copyright 2020/2021 Andy Rice - Motorcycle Safety Instructor. All Rights Reserved.